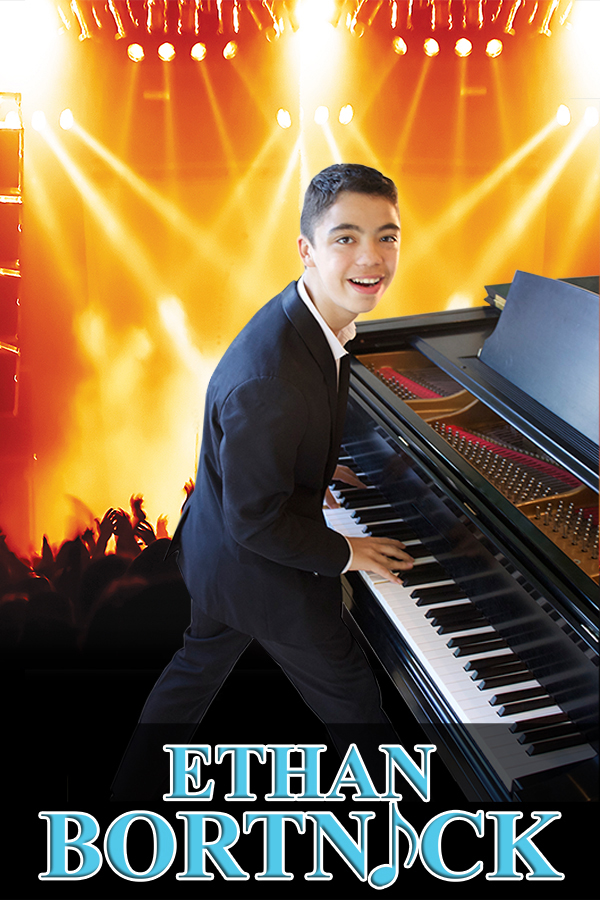 Guinness World Record Holder – certified as the youngest headline performer in the world to ever have his own tour. Ethan Bortnick has headlined over 150 concerts in the U.S., Japan, Canada, Brazil, South Africa and Australia.
In 2017, he launched his 5th Public Television Special "Generations of Music", while his highly successful nationally televised TV show, The Power of Music, has continued to be the number one concert pledge show on Public Television for 2014-15 pledge drives, and is still running nationwide, winning multiple awards.
Ethan's National Media Appearances include Oprah (2 times), Tonight Show (4 times as key guest), Good Morning America (2 times), USA Today (feature story), CBS Early Show, NPR, PBS, Inside Edition, Access Hollywood, Fox and Friends, Rolling Stone, Martha Stewart, Disney, Nickelodeon, Wendy Williams Show, Reuters, AP and other National Television, Radio and Print.
Appealing to multi-generational audiences, this 17-year old prodigy presents a repertoire from Broadway to Pop, Classical & Rock. His tour, supported by his third PBS special, continues to be one of the most successful. He continuous to keep selling out many markets with pledges only. A Guinness World Record Holder, Ethan Bortnick has raised more than $50,000,000 for charity. "Ethan's Music Room" was nominated for an Emmy for promoting music appreciation to young people. His outreach programs have proven highly motivating in supporting the arts.
Ethan completed shooting a full-length feature film called Anything Is Possible which was released in September 2013 to rave reviews. He starred in the film, co-wrote all of the songs in the film and scored all the background music.
Made Las Vegas history as the youngest performer to ever headline in Vegas at the historic Hilton Theater.
Has over 1,000,000 fans on kidzbop.com– social network for kids.
Raised over $50,000,000 for charities around the world.